Your Firepit Base

 Firepit inserts are the basic component for your firepit kit. Inserts are vital for protecting your stone investment from cracking or discoloring due to extreme heat or severe weather. Our firepit inserts are constructed of heavy-duty carbon steel, coated with non-toxic heat-resistant paint and built to last.
Standard inserts have a 2″ flange and a tapered body which allows them to be nested together, saving freight cost and inventory space. Round inserts fit pit openings from 29″ through 32″ and are available with and without bottoms.  Lo-Smoke inserts reduce the smoke and help completely burn wood. The double-walled construction and vent holes on the upper interior wall recirculate hot gases and encourage reburn. And an extra wide flange allows the Lo-Smoke insert to fit round pit openings from 28″ to 32″. Square inserts fit pit openings of 24″ and 28″ square and are bottomless.
Stainless steel grill grates and spark screens are available for all insert sizes.

Round Inserts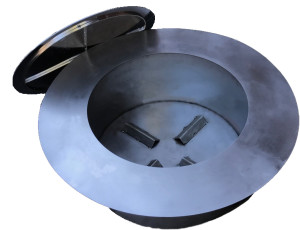 Lo-Smoke Insert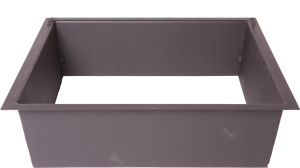 Square Insert